When you get in and out of a chair, you are actually using a fairly large amount of muscles. Just think for a moment about all the actions that you perform to use a chair. You use your ankles and legs to support your weight. Your thighs are used when your knees become bent. As you get closer to the chair your abdominal muscles start to support you, making sure that you don't fall over. You might well place your arms on to the arms of the chair to make the journey down a little slower.
As you can see, you are really using a quite a lot more of your body's resources than you might have thought. If any one, or perhaps more than one, of these muscles, or parts of your body are causing you pain then getting in and out of a chair can be difficult and something that you might fear.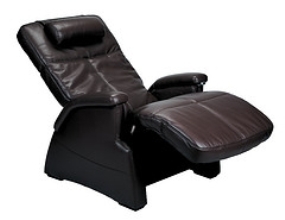 Perhaps you need to think about getting a riser recliner chair as a means of alleviating your pain when using a chair. They are beneficial because they do all of the hard work for you, so that you can relax and enjoy sitting down again. You will feel comfortable and in control again.
Buried beneath the fabric of the chair are some complicated pieces of machinery. A remote control is all that you need to raise and lower the chair. By pressing the 'raise' button the chair slowly starts to rise off the ground and gets higher. This is not all though! The 'seat' of the chair will lean towards you so that it is easy to get in. You just lean your body against it whilst you are standing up. You then press the 'descend' button, and the chair will straighten out return to the floor.
Because the chair has done all of the work, your legs and torso and other parts of your body which might cause you pain, are not working hard at all. This means that you greatly reduce the pain and levels of stress that you might feel.
When you are in the chair, you have the option to lower the back of the chair, thus taking the weight off your hips. That's not all though. Usually these riser recliner chairs have a concealed leg 'platform' which can be used with another button to lift your legs off the ground. Now you are in a chair which is just about flat, rather like a bed would be. Unlike a bed though, this riser recliner chair will return you to standing whenever you push the buttons.
With so many options, it is important that you do some research to make sure that the model that you purchase has all of the features that you require.
A major point to think about when buying one of these chairs is whether or not you have a point outlet close to there you want it to be positioned. Mind out for that power cord though, we don't want to trip over it.