INJECTING
Injectors
What length of needle should I use on my insulin pen?
There are several lengths of needle available today ranging from 5 mm to 12.7 mm. As a rule, they are used as follows:
the 5 or 6 mm needle for children and thin to normal weight adults without a lifted skin fold (this means injecting straight into the skin without pinching it first);
the 8 mm for normal weight adults with a lifted skin fold (loosely pinched);
the 12 or 12.7 mm needle for overweight adults also with a lifted skin fold.
Ask your healthcare professional for the needle length and injection technique the most appropriate for you.
I am partially sighted. What pens or syringes are available for people like me, or for people who are blind? Are there any gadgets that would help me with my injections?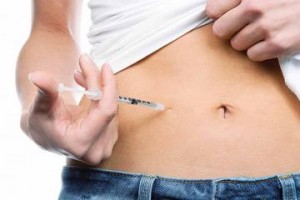 Most visually impaired people are advised to use an insulin pen rather than a syringe because you do not need to draw up insulin or check for air bubbles. The dialling mechanism usually has a distinctive clicking sound which reassures you that you have taken the correct dose. It is quite easy to use once the technique has been mastered, and offers a good choice of different types of insulin. This should be discussed with your physician or diabetes specialist nurse. There is a section Insulin pens earlier in this chapter.
Novo Nordisk produces a device called Innolet that might well suit you. It is a disposable insulin pen with a large dock-like dial and a loud clicking sound with each unit dialled. It has raised spots at every 5 units marked. It also has a 'rocker' that allows you to rest the device on your skin before moving the needle forward to inject. It is easier to hold as it has a large grip.
Where should I keep my supplies of insulin?
Stores of insulin should ideally be kept in a refrigerator, but not in the freezer or freezing compartment. The ideal storage temperature is between 2° and 8°C. Below 0°C insulin is destroyed, and from 30°C upwards, insulin activity progressively decreases. If you do not have a fridge, then insulin may be stored for about a month at room temperature but keep it away from sources of direct heat such as radiators and strong sunlight. Many people prefer to keep their insulin bottle and/or their insulin pen that is in current use at room temperature as it may make the injection more comfortable (cold insulin increases the pain of the injection).
Should I wipe the top of the insulin bottle or insulin cartridge with spirit before use?
It is generally accepted that it is not necessary to clean the cartridge or insulin bottle top before use.